Inferno Wireless System
Inferno Wireless System is an Inferno alarm with wireless capability. It's a complete, easy to install, alarm system that can send up to eight messages to your mobile phone. It has a GSM alarm transmitter for immediate communication and an infrared motion detector for complete security. A complete plug and play alarm system. Complete security system with easy installation is a perfect solution for corporates, offices and high secured zones.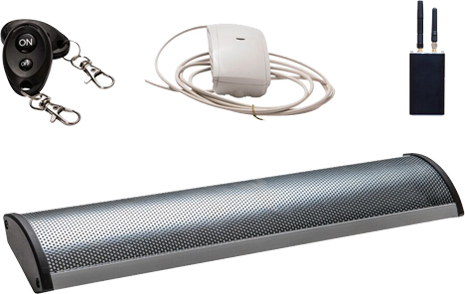 Technical summary:
Protective capability

Directional or to protect a volume up to 150 cubic meters/5250 cubic feet

Dimensions

L = 685 mm/26.97 in
W = 106 mm/4.17 in
D = 40 mm/1.58 in

Weight

1.9 kg/ 4.1 lb

Frequency range

2 - 5 kHz

Acoustic effect

125 -127 ±1 dB(A) @ 1 m/3.28 ft, user selectable

Battery backup

9.6 V, 1800 mAh, Ni-MH

Battery lifetime

3 years

Power consumption

12 - 16 V DC, < 150 mA

Function time at cont. signal

> 30 minutes

Standby without charge

Up to 56 hours

Input and Output

In: 2 NO/NC, 1 NC Out: 1 NO/NC

Temperature range

-10 — +60 (C), 14 — 140 (F)
Data sheet:
Download the Inferno Wireless System data sheet with complete technical specifications.